Spare parts for most woodburning stoves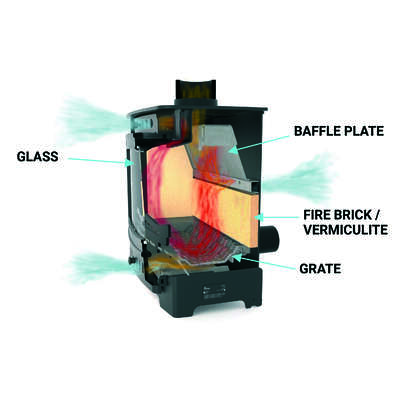 Stove Spares is a one-stop online store for sourcing stove spare parts for multifuel stoves and woodburning stoves. Our online store carries spare parts for all of the top stove manufacturers that currently retail their stove products in the UK, this includes most European and imported stoves. We can also supply spares for pellet boilers including Klover and Extraflame.
The parts of both multifuel and woodburning stoves are put under immense pressure every time the stove is used, so it is inevitable that through time, all stoves will require replacement parts. Parts that most commonly wear out are: Stove glass, Door rope seals, Grates, Fire bricks and Baffle plates.

Replacement Stove Glass
Replacement stove glass is, on average, the part that needs to be replaced most often. The glass on most stoves is easy to damage and finding the right replacement glass, then having it cut to size by a local glazier can prove to be a time consuming and expensive option, so we make sure that we hold the largest stock of stove replacement glass of any UK online shop.
If, however, if we don't carry the spare glass that you are looking for and we are unable to source it for you, we have a glazier on hand that will cut a replacement glass panel to suit your requirements.
As well as door rope seals, grates, fire bricks, baffle plates and replacement glass, we offer a massive range of other stove spare parts, retaining bars, heat resistant paint, flue spigots, glass clips, flue collars, blanking plates, and so on....
If you have any questions about any of our stove spares, we don't feature the part that you need for your woodburning or multifuel stove then contact us and we will see if we can source the part for you.